When it comes to marketing the essentials include a winning product, target audience and a core message. So when I heard that Rihanna was launching her own product line I wanted to see how she executed on these key elements. The fourth quarter is money time. Halloween is fast approaching and then Black Friday and Cyber Monday will be sucking all the consumers attention. If you're coming into the market now with something new then bring your best game.  
Thankfully Team Riri did not disappoint. They smashed the ball out of the whole park with a diverse mix of marketing tactics, public relations and social media sophistication that would make any marketer proud. And the great news for you entrepreneurs is that clues were left behind that we can use to further our own product launches and holiday marketing efforts.
Let's take a first look through our marketing lens at Rihanna's Fenty Beauty Line.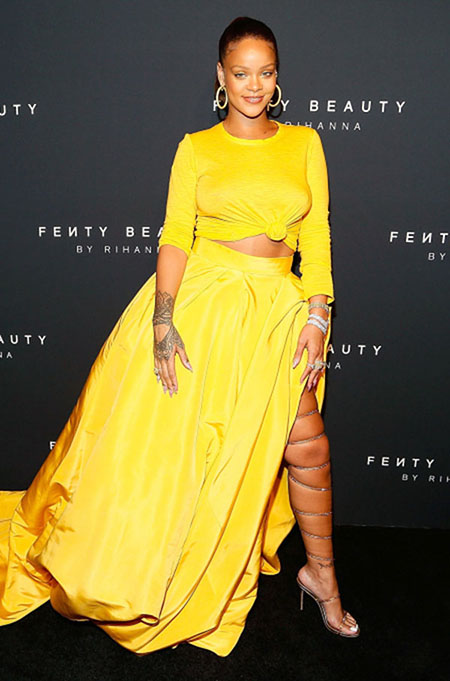 1. Timing is Everything
What:
Rihanna could not create history at just any old event on any random day. And what better place with more media attention and hype than New York City Fashion Week? This is where the trends are made. The world's top designers, models, influencers, fashion and beauty mavens are in one place. The Bad Gal hosted an exclusive event and got the party started.
Why:
The key with makeup is getting the product on faces and getting lots of photos and videos. It's super personal, emotional and visual. For maximum effect you need the right mix of lights, cameras and action. Being at New York Fashion Week, surrounded by models, media, celebrities and massive amounts of excited consumers makes it easy to get the product on lots of willing faces.
How:
If you want organic attention hitch your product launch or event to something even bigger that connects with your target audience. Holidays and celebrations can provide the perfect opportunity. The consumers mind is already conditioned for the occasion. And media coverage is practically guaranteed as journalists are often looking for stories, new angles and people that can resonate with their audience.
View this post on Instagram
2. Think Strategic Not One-off
What:
Rihanna clearly had a multi-pronged strategy in place. Following her launch party in New York, she hosted star-studded launch parties in London, Madrid and Paris. She also worked the register at Sephora to see the first group of fans buying her makeup. Now just one month following the Fenty Beauty initial launch, Riri is adding even more products to the catalog with a holiday line she calls the Galaxy Collection. The new "Holiday Collection" debuts on Friday, Oct. 13. This gives lucky fans plenty of time to try the brand for holiday parties, events and share as gifts.
Why:
The holidays are the best time of the year if you have a product to sell. Ecommerce is booming and it is predicted that more money will be spent online this year than any other year in history. The initial launch of the Fenty Beauty brand included a range of highlighters, 40 shades of foundation, a variety of brushes, concealing and correcting sticks, blotting papers and powder and a universal lip gloss. During the holidays people find an extra shopping gear. They want to share, celebrate and be the most fashionable. By introducing a holiday line Fenty Beauty ticks all the boxes.
How:
As an entrepreneur you can also devise a series of layers and launches for your product or service. The key is to closely examine the calendar and the buying cycle of your target audience. How can you add value, convenience or exclusivity that extends your product or service? Lead your consumers from event to event and right through your funnel to become repeat customers and raving fans that keep you top of mind.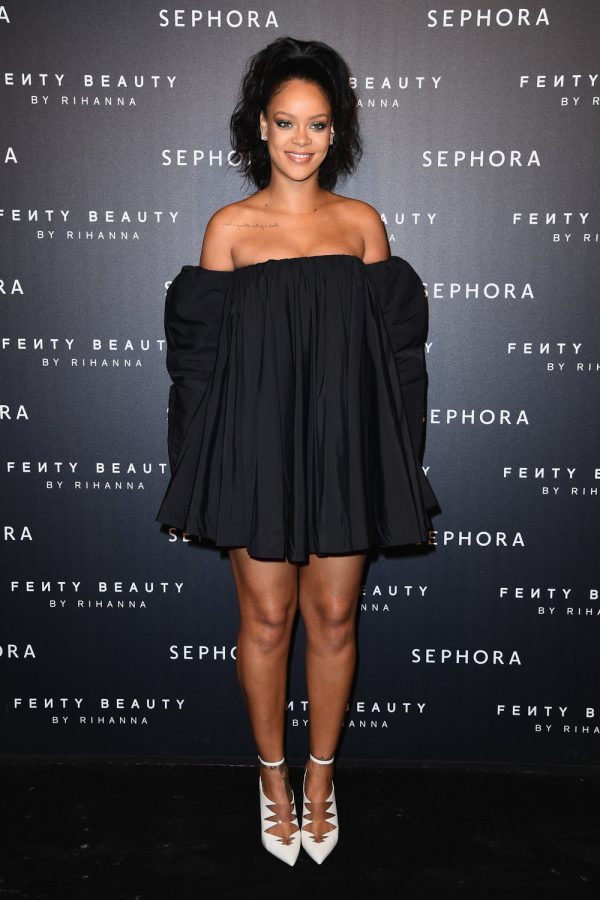 3. Leverage a Strategic Partner
What:
Sephora is a powerful partner that creates a win-win relationship for Rihanna and Fenty Beauty. Founded in France, Sephora's owner, LVMH Moet Hennessy Louis Vuiton SA, has a global workforce that is 74 percent female. In 2016 they opened 100 stores and had double-digit profit growth. The company is a retail sales beast for cosmetics, fragrances, skin care and makeup.
Why:
Sephora says "beauty is in our DNA". So for Rihanna they bring an audience and a tremendous amount of credibility for a space where she is not established like music. Another surprising fact for a Silicon Valley company is that more than half of Sephora's tech workers are women. We're talking about the majority of a 350-person digital and engineering staff. And their executives say the key to their success with technology is a strong connection to the consumer. By having a partner that matches her target consumer sales are accelerated. In addition Sephora brings infrastructure, tech skills and global reach. All of which are vital for brand success.
How:
As a business owner you want partners that complement and extend your capacity. Identify players in your industry that fill in gaps you have in your skills, knowledge or resources. Then do research to see how you might add value to each other by working together for mutual gain. Today many large companies are pursuing niche markets and social influencers. Package and promote your brand to build a relationship with a new strategic partner.
View this post on Instagram
4. Fill a Hole in the Market
What:
The beauty market has under-served the skin care needs of ethnic women and those with darker skin tones. Rihanna recognized this important segment and saw the business opportunity. When the mogul decided to step into the beauty world, she had one important requirement for her products: "I wanted a color that looked good on all skin tones … it's really important for me in every product," she said to reporters at her Fenty Beauty launch event.
Why:
A product with a Unique Selling Proposition (USP) can be more easily positioned in the mind and pockets of the target audience. For beauty products many ethnic women have had to mix, match and go without choices developed for their skin tone. Having a wide range of shades was Rihanna's top priority when it came to developing "things girls could fall in love with of all skin tones." As a result the deepest foundation colors quickly started selling out in some Sephora stores across the U.S.
How:
In today's global, connected and social market place word-of-mouth spreads faster than ever. Videos, images, review sites and social shares can help products and services find a happy home more effectively than paid advertising. Nobody wants to buy something that is "no different than anything else" in the market. How can you go beyond? Do you have tech skills, communications, customer service, extended hours, location or some other product quality that no one else can offer? If you are creative and can share your USP with your target audience this could be your golden ticket.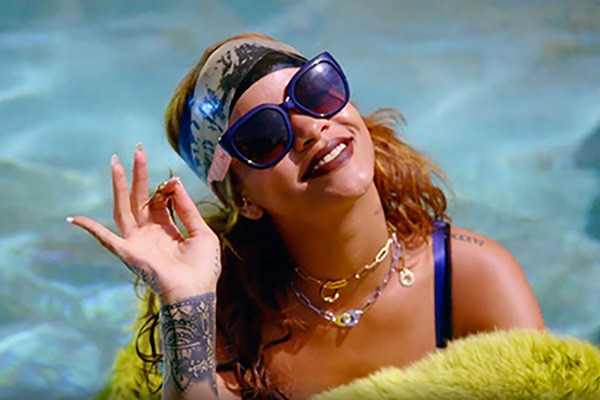 5. Social Media is a Market Game Changer
What:
Rihanna is a savvy queen on social media with a footprint that includes hundreds of millions of fans. The 29-year-old is fully plugged into the power by being active on all of the major platforms including Instagram (57-million fans), Facebook (81-million likes), Twitter (80-million followers) and Snapchat. In addition her channels on YouTube, (540K) and Vevo keep her videos in high visibility. For the Fenty Beauty launch she blasted messages, status updates, and behind the scenes content to her legion of fans. She was social and fans responded by buying her products.
Why:
One of the great things about social media is that you can connect, engage and respond to real people. For Rihanna and Fenty Beauty this means doing a fans makeup, working the counter at Sephora, liking how a fan uses the product and then sharing that information on the social platform. Now other fans can see that Rihanna is a "real person" and want to reach out. They've made the emotional connection. Marketers know that emotions drive more sales than logic.
How:
Look at the social presence of your business or brand. Are you engaging users around their interests and topics they care about? Are people commenting and liking your posts? There is a difference between you having a conversation and trying to overtly sell your products. The point of social media is to well, be social. If you're not engaging and connecting with your audience you're probably missing out of valuable opportunities to develop potential sales and clients.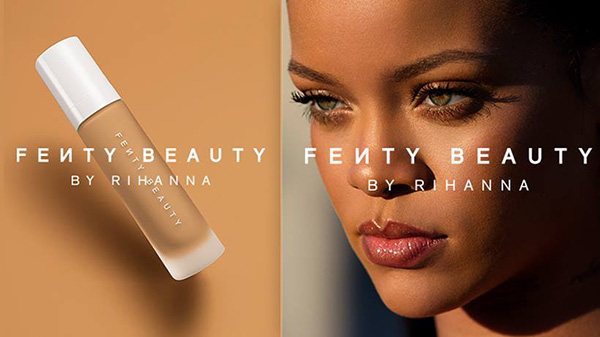 6. Digital Marketing is Marketing
What:
Digital marketing means using all of the electronic tools to reach, engage and convert your prospects to customers. For Rihanna and Fenty Beauty this is evidenced by driving all of the traffic to the Fenty Beauty website. It is the click through link on the Rihanna Twitter. It is the background image on the Sephora Twitter. It is the click through link on Rihanna's Instagram. It is the "Story" link on Rihanna's Facebook. And it is the link from "Beauty" on Rihanna's website. In addition the link is included in many of the individual posts that are going up on these platforms. And all of these sites have consistent Fenty Beauty by Rihanna branding.
Why:
Directing the traffic from Rihanna's multiple social media platforms to the single ecommerce storefront page means millions of visitors are hitting the page every day. And by having the page populated with relevant, timely and cool content a percentage of those visitors will convert to sales. Rihanna's may not be doing paid social media advertising at this point in the campaign. They are getting huge organic and viral reach by leveraging the power of one of the most recognizable personalities on the planet. And by planning out additional product line expansions they generate free publicity on blogs, print, radio and social media.
How:
You may not have traffic in the millions of monthly visitors like Rihanna and Fenty Beauty – but you can still apply some elements of their strategy to grow your business. Do you have a dedicated landing page on your website? You'll need this to participate. If you don't have one (click here) for a great way to get started. Now you want to point all of your social media presences and weblinks to your landing page. This means you also need to build those social platforms with relevant content following your digital marketing plan. Now as the traffic to the page grows you need to monitor your conversions and adjust as needed.
View this post on Instagram
7. Be Authentic
What:
Nobody likes a phony, a fake a cheap imitation of the real. It's true offline and it's true online. Rihanna and Fenty Beauty have developed on a foundation of authenticity. According to her website, "Rihanna was inspired to create Fenty Beauty after years of experimenting with the best-of-the-best in beauty—and still seeing a void in the industry for products that performed across all skin types and tones. She launched a makeup line "so that women everywhere would be included," focusing on a wide range of traditionally hard-to-match skin tones, creating formulas that work for all skin types, and pinpointing universal shades." The brand message is clear and Rihanna has the credibility with her target audience to deliver.
Why:
Rihanna knows if you engage fans for the sake of engagement loyalty and sales will follow. Within the 10 years since the start of her musical career, she's become the youngest solo artist to score 14 Number 1 singles on the Billboard Hot 100— and the fastest to do so. She also has a strong connection with the Millennial audience. Riri is the "best selling digital artist of all time… with more than 100 million [RIAA] gold & platinum song certifications." Some of the most searched for keywords are "rihanna tour" and "rihanna concert". In short her authenticity has played a key role in making her into an icon.
How:
Can you be authentic? If you're a brand it can be more difficult than a celebrity or personality to be genuine. But it is possible if you will identify your brand message, your mission and stay true to delivering on it in all of your public interactions. This includes online, offline,customer service, human resources, packaging — the whole thing. You may need to reinvent or re-brand if you've gone too far down the road and made yourself irrelevant. Now is the time to examine where you are with your target audience, the results you're getting and where you're heading if you don't change.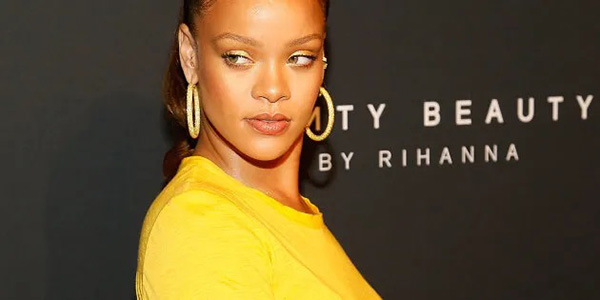 So there you have it. Seven practical tips that we learned from Rihanna and Fenty Beauty that we can apply in time for holiday marketing all year long. Now over to you. Pick one element and get started with implementation.
And let me know your thoughts in the comments.